For over 5 years, in cooperation with the Italian company Gerotto, we have been making video monitoring systems and security control in ATEX zones. We equip various types of cleaning machines with devices enabling real-time vision transmission. We use cameras, lamps, power supplies, separators, monitors and remote control kits for this. All offered products have ATEX certificates and can work in hazardous areas.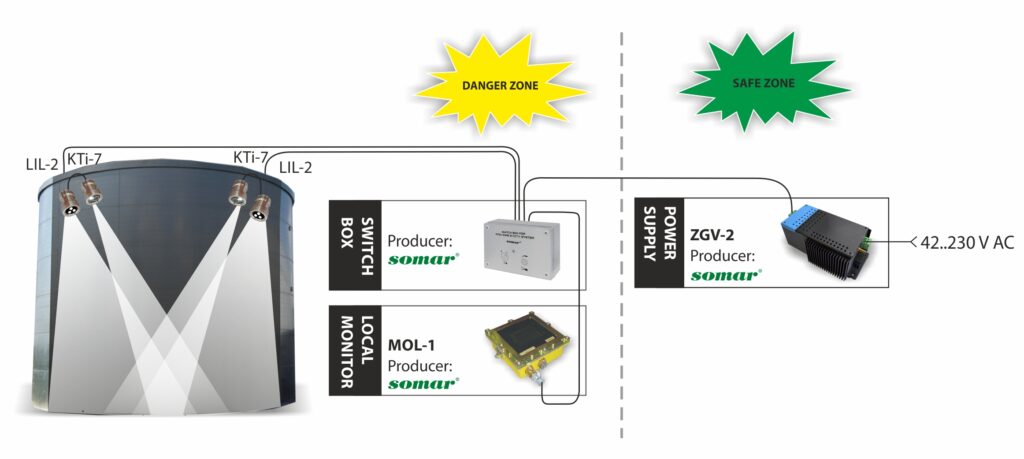 The mobile CCTV monitoring system is used for remote image observation from dangerous or hard-to-reach places. It consists of an operator panel, flexible connection cable and a distribution box equipped with two cameras and LED illuminators. The distance between the operator and the machine equipped with cameras can be up to 120m.
The main features of CCTV systems are:
very high mechanical strength
IP 68 tightness class
high image quality
possibility of image registration
integrated system for remote cleaning of camera optics
wide range of supply voltages (9 – 30VDC)
possibility of working with a winder
The operator panel is equipped with:
7-inch monitor with IP69K protection class
the ability to register and copy the image
the ability to switch the image from cameras and control the lighting
the ability to control the washer pump
external analog signal output
Parameters of cameras and lamps:
image resolution 752 (H) x 582 (V)
lens angle 101 °, 72 °
light output 2 × 800 lm
In addition, CCTV has found its application in many industries. Its functionality has gone far beyond the original application area of ​​property protection systems. CCTV systems can also be used in underground mining plants and in "0" zones. Especially in those places where the observation directly by humans poses a threat to them or is economically unjustified. In factories, an important requirement for the camera is its correct operation in low light conditions. Therefore, the basic parameter is the camera sensitivity. Typical black and white cameras are sensitive to both visible and infrared radiation. In color cameras, the infrared range is filtered, so typical CCTV cameras used for night observations switch to black and white mode after dark. SOMAR SA undertakes to deliver a set of devices included in the surface equipment of the video surveillance station designed in accordance with the functional requirements of the user. Such a stand usually includes a video recorder for archiving and sharing images, a monitor that allows the simultaneous presentation of images from several cameras while maintaining the appropriate quality, and transducers appropriate to the transmission medium used.